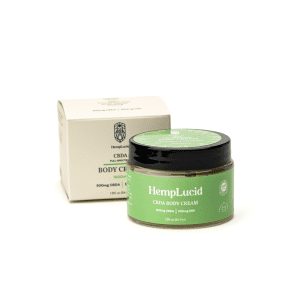 When it comes to the wide world of hemp and CBD products, consumers have a plethora of options to choose from. There are countless brands, formulas, and product types, making it easy to find something to suit even the most unique of needs.
In particular, HempLucid topicals have gained plenty of attention for their unique characteristics and reported benefits. Let's dive deeper into what makes these products special and why they might be the right fit for your wellness routine.
What is a CBD Topical?
Essentially, CBD topicals are creams, lotions, or salves infused with CBD, a natural compound derived from hemp. Topicals allow you to apply CBD directly to a specific area of the body, offering a targeted approach that many users find beneficial.
Full-spectrum vs. broad-spectrum vs. isolate
Isolate CBD

is the purest form of CBD, with all other compounds and cannabinoids removed. This includes Delta-9-THC, so isolate CBD products have zero Delta-9-THC content.

Full Spectrum CBD

, on the other hand, contains all the naturally occurring compounds in the cannabis plant, including trace amounts of Delta-9-THC (but always less than 0.3%).

Broad Spectrum CBD

is a middle ground between the two. It features the full range of cannabinoids but has all traces of Delta-9-THC removed.
Each type of CBD offers unique benefits and may suit different needs. Full and broad spectrum CBD may provide what's known as the "entourage effect" – the idea that all cannabis compounds work together synergistically to enhance their overall effects.
What Does Hemp Lotion Do for You?
Hemp lotion, one of the many types of CBD topicals available, combines the nourishing and moisturizing properties of traditional lotions with the potential benefits of CBD. Consumers report that the topical application of CBD may promote a sense of localized relief and relaxation.
While scientists are still exploring the benefits of topical CBD, many consumers appreciate the direct application for its ease of use and potential to provide targeted support. There are many different reasons to try CBD topicals, including consumer-reported benefits such as:
Targeted pain relief

Improved skin appearance

Reduced inflammation
Even better, the benefits of hemp lotion extend beyond CBD alone. Hemp seeds are rich in vitamins and fatty acids, which can contribute to healthy-looking, moisturized skin.
The Benefits of HempLucid Topicals
HempLucid topicals stand out in the crowded CBD market for several reasons. Here are a few key benefits that make these products such a popular choice:
Convenience

: Convenient and compact, HempLucid topicals are easy to carry around whether you're going to work, hitting the gym, or embarking on an adventure. They can be used anytime, anywhere, offering users a handy tool for their wellness arsenal.

Targeted Use

: The topical application allows you to apply the product exactly where you feel it's needed most. This targeted use is a main benefit that draws people to CBD lotions.

Friendly for Beginners

: If you're new to the world of CBD, topicals can be a great starting point. They're easy to use – simply apply as you would any lotion or cream – and it's straightforward to manage how much you use.

Variety of Formulas

: HempLucid topicals come in a range of formulas designed to meet specific needs. Whether you're seeking something for everyday moisturizing or a product with a higher concentration of CBD, there's likely a HempLucid topical that fits the bill.

CBD Derived from Hemp

: HempLucid ensures that their CBD is derived from hemp, meaning it contains less than 0.3% Delta-9-THC (the compound responsible for the 'high' associated with cannabis). This ensures that you can enjoy the CBD lotion benefits without the psychoactive effects.
How to Use HempLucid Topicals
Using HempLucid topicals is easy and intuitive. Simply apply a small amount to the desired area and rub it into the skin until fully absorbed. Regular usage is key to obtaining the potential benefits, so it's recommended to incorporate it into your daily routine.
HempLucid Topicals for Sale from CannaBuddy
Selecting a reputable and reliable retailer for your CBD products is just as important as choosing the right type of CBD for your needs. CannaBuddy, a trusted name in the CBD industry, provides a curated selection of high-quality CBD products, including HempLucid topicals.
Choosing HempLucid from CannaBuddy gives you the confidence of knowing you're getting top-tier products made with integrity. With a variety of formulas available, you can find the perfect CBD topical to fit your lifestyle and wellness regimen.
Check out our full selection of CBD topicals today!